Let's face it, there are some jobs you simply shouldn't delegate to beginners. Electrical system repairs definitely fall under that heading! When you need repairs or upgrades on a residential or commercial electrical system, you need to know that the company you call is experienced, and has the necessary skillset to complete the work safely and successfully, for a reasonable price. Potts Electric is at your service in the St. Louis, MO metro and surrounding areas.
Bringing Power to people
Potts Electric brings over a decade of experience in residential and commercial electrical repairs to the table.
What's more, we are a family-owned company, bringing family values of honesty, integrity, and efficiency to every job we do. For an electrical inspection of a home you're looking to purchase, or a complete a whole home rewire in the St. Louis, MO metro and surrounding areas, you can count on us to get it done correctly and affordably.
Installation, maintenance, and repair for all your electrical systems
Whether you're finally getting the backyard hot tub and pool you've been dreaming about, or a single outlet in your kitchen is on the fritz, all you need to remember is one name, one number: Potts Electric.
From initial wiring installs on new construction projects, to keeping those systems in tip-top working order for years and years, we have the certified electricians with the training to get it done for you. Call us for an estimate today.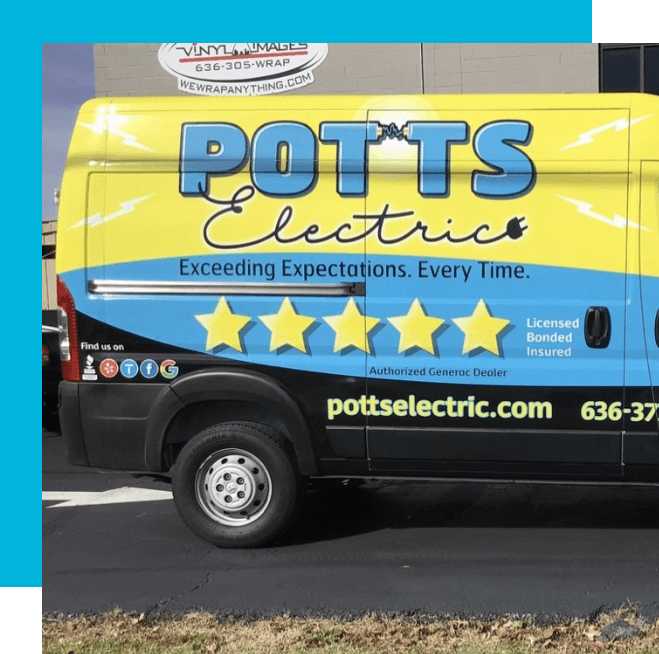 Trust The Experts!
Don't take the risk of calling an unlicensed "Johnny down the street" handyman or attempting DIY electrical work. It's unsafe and dangerous, and the risks far outweigh the benefits of potentially saving a few dollars. Instead, choose a fully licensed, bonded, and insured electrical company like Potts Electric to perform the work safely and properly.
We conduct our work safely, professionally, and in your best interests.
Photo Gallery
Potts Electric has a large and growing portfolio of residential and commercial electrical installations and repairs throughout the Greater St. Louis, MO, metro and surrounding areas. We encourage you to browse this small sampling of photos of our facilities, vehicles, electrical contractors, and recent projects. Then call our office for a quote.
We look forward to serving you and exceeding your expectations!
Flip a switch and… nothing?
Call us today at (636) 435-2881 and we'll provide the expert assistance you need.